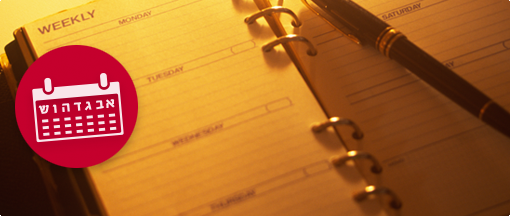 function getHebrewDateObj($_date){ $gregorianMonth = date(n, $_date); $gregorianDay = date(j, $_date); $gregorianYear = date(Y, $_date); return gregoriantojd($gregorianMonth,$gregorianDay,$gregorianYear); } function getHebrewMonthName($_date){ $jdMonth = jdmonthname(getHebrewDateObj($_date),4); if(substr($jdMonth,-2) == "II"){ $jdMonth = substr($jdMonth,0,-2)." II"; } else if(substr($jdMonth,-1) == "I"){ $jdMonth = substr($jdMonth,0,-1)." I"; } return $jdMonth; } function getHebrewDate($_date){ return jdtojewish(getHebrewDateObj($_date)); } function getDatePrintout($dt, $monthName){ list($month, $day, $year) = split('/',$dt); return "$day ".((!empty($monthName)) ? $monthName : $month)." $year"; } $dt = date('U'); $gregorianDate = date('n', $dt)."/".date('j', $dt)."/".date('Y', $dt); $hebrewDate = getHebrewDate($dt); echo getDatePrintout($hebrewDate,getHebrewMonthName($dt))." / ".getDatePrintout($gregorianDate,date('F', $dt)); ?>
Torah Calendar
3-9 Adar 5778
18-24 February '18
For this week's study schedule & classes, CLICK HERE
• When Adar arrives, we maximize SIMCHAH •
Attributes of the month of Adar: Ruling permutation of the letters of HAVAYAH are HEH-HEH-YUD-VAV contained in the final letters of four of the Hebrew words in Genesis 49:11, eeroH velashrekaH bniY athonO, "his foal..., and his ass's colt unto the choice vine". The month's corresponding letter is: KUF; Human attribute: LAUGHTER; Body Part: SPLEEN; Tribe: NAFTALI; Constellation: DAGIM (Pisces).
Wednesday night-Thursday 21-22 February / 7 Adar
Yahrzeit of Moshe Rabbenu -- Moses -- who died in the year 2488 (1272 B.C.E.) On Moses' yahrzeit it is appropriate to strengthen oneself in faith in Moses and the Torah: "And they believed in HaShem and in Moses His servant" (Exodus 14:31). On this day Breslover Chassidim customarily recite prayers from Likutey Tefilot on the theme of attachment to the true Tzaddik (e.g. Part I, Prayers 18, 30 and 64; Part II Prayers 7 & 20).
In the month of Adar Israel's power is so great that even with the breath of their mouths alone all the harsh judgments and bad spirits are sweetened so that they hold no sway at all in the world.
Friday night-Saturday 23-24 February / 9 Adar
Shabbat Parshat TETZAVEH
Shabbat ZACHOR ("Remember")
Torah reading: Exodus 27:20-30:10 explaining the design of the priestly garments of Aaron and his sons and rituals with which they were to be inaugurated into the priesthood.
Special additional reading: Parshas Zachor (Deut. 25:17-19) read on the Shabbat before Purim, sets forth the Torah mitzvah to recall the hatred of Amalek for Israel and to wipe out all memory of Amalek. It is a mitzvah for every male to hear this Torah reading, and many women also customarily attend the synagogue to hear it.
Haftara: I Samuel 15:1-33 describing King Saul's war against Amalek.
---
Subscribe for free emails
To subscribe to AZAMRA's free weekly news and diary emails, click here.