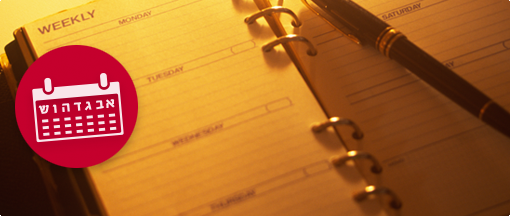 8 Tevet 5779 / 16 December 2018
Torah Calendar
8-14 Tevet 5779
16-22 December '18
For this week's study schedule & classes, CLICK HERE
Attributes of the month of KISLEV: Ruling permutation of the letters of HAVAYAH: VAV YOD KEH KEH, contained in the initial Hebrew letters of the words of the verse Vayar Yoshev Ha'aretz Hakena'ani, "and the Canaanite inhabitants of the land saw ..." (Genesis 50:11). The month's corresponding letter is: SAMECH; Human attribute: SLEEP; Body Part: KIVAH-Stomach ; Tribe: BENJAMIN; Constellation: KESHET (Sagittarius, the Archer)
Sunday 16 December / 8 Tevet
Seventy Torah sages produced a translation of the Torah into Greek (the "Septuagint") for King Ptolemy, causing three days of darkness to fall upon the world.
Sunday night-Monday 16-17 December / 9 Tevet
Today is the anniversary of the death of Ezra the Scribe.
Monday night 17 December / Eve of 10 Tevet
Tonight and tomorrow is the Yahrzeit of Rabbi Nosson of Breslov (1780-1844), outstanding student and scribe of Rebbe Nachman of Breslov. The Yahrzeit is traditionally celebrated by the Breslover Chassidim with a festive meal this evening accompanied with singing, Torah study and words of inspiration.
Tuesday 18 December / 10 Tevet
FAST OF TEVET
The Fast of the Tenth of Tevet is observed from dawn until nightfall in memory of Nebuchadnezzar's laying siege to Jerusalem prior to the destruction of the First Temple. May we merit to see the fulfilment of the prophecy that "...the fast of the tenth month will be for the house of Judah for happiness and for joy and for festivals, and love truth and peace" (Zechariah 8:19).
Friday night-Saturday 21-22 December / 14 Tevet
Shabbat Parshat VAYECHI
Torah Reading: Gen. 47:28-50:26. Haftara: I Kings 2:1-12.
Parents blessing their children after the Friday night prayers prior to the Shabbat evening meal should do so with special intent tonight as this week's parshah contains Jacob's blessings to his sons and grandsons, including the verse with which fathers customarily bless their sons, "May G-d make you like Ephraim and Menasheh" (Genesis 48:20). The customary blessing for girls, "May G-d make you like Sarah and Rebecca, Rachel and Leah" is also based on this verse.
In the holy city of Hebron today is celebrated as "Purim of the Window" because in 1741 the Turkish governor imposed a levy of 50,000 grush on the Jews of the city threatening to wipe them out if they did not pay within three days. After three days of communal fasting the beadle of the synagogue discovered a purse on the window sill containing the necessary sum in full.
---
Subscribe for free emails
To subscribe to AZAMRA's free weekly news and diary emails, click here.