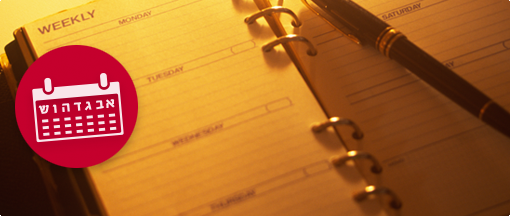 21 Sivan 5779 / 24 June 2019
Torah Calendar
20-26 Sivan 5779
June 23-29, '19
For this week's study schedule & classes, CLICK HERE
Attributes of the month of Sivan: Ruling permutation of the letters of HAVAYAH: YOD VAV KEH KEH, contained in the initial Hebrew letters of Yedotav U-letzela Hamiskan Hasheinit - "...for its tenons and for the second side of the tabernacle..." (Exodus 26:19-20). The month's corresponding letter is: ZAYIN; Human attribute: MOTION; Body Part: LEFT FOOT; Tribe: ZEVULUN; Constellation: TE-OMIM (Gemini, the Twins).
Saturday night-Sunday 22-23 June / 20 Sivan
The violent massacres of Jews in France and Germany by the Crusaders reached their climax on this day in 1171, and likewise the 1648-9 Chmielnitzki massacres in Poland-Ukraine reached their climax on the same date. Thereafter the Polish communities observed an annual commemorative fast on this day with the recital of special Selichot.
Friday 28 June / 25 Sivan
Under the Roman occupation of Israel, three of the ten Harugey Malchut (martyrs) , Rabban Shimon ben Gamliel, Rabbi Yishmael the High Priest and Rabbi Chaninah, the deputy High Priest, were put to death on this day.
Friday night-Saturday 28-29 June / 26 Sivan
Torah reading: Diaspora: SHELACH LECHA;
Israel : KORACH
SHABBAT MEVARCHIM TAMMUZ
In the Diaspora the Torah reading is Shelach Lecha, Numbers 13:1-15:41 giving the account of the journey of the 12 Spies to the Land of Israel and the sin of the people in accepting the slanderous report of the 10 sinful spies.
In Israel the Torah reading is Korach, Numbers 16:1-18:32 telling of Korach's conspiracy against Moses and Aaron and giving the laws of the priestly and Levitical gifts.
After the Torah reading we bless the coming month of Tammuz. The Molad (junction of the sun and the moon) will be on Tuesday July 2 at 15:38 (& 2 chalakim) p.m. Rosh Chodesh is two days, on Tuesday night, Wednesday and Thursday 2-4 July.
---
Subscribe for free emails
To subscribe to AZAMRA's free weekly news and diary emails, click here.