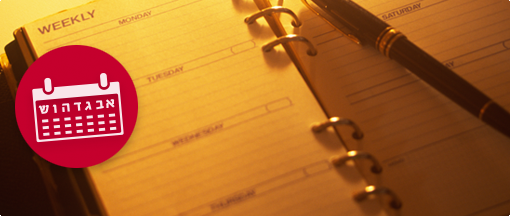 14 Adar I 5779 / 19 February 2019
Torah Calendar
12-18 Adar I, 5779
17-23 February '19
For this week's study schedule & classes, CLICK HERE
Attributes of the month of Adar: Ruling permutation of the letters of HAVAYAH are HEH-HEH-YUD-VAV contained in the final letters of four of the Hebrew words in Genesis 49:11, eeroH velashrekaH bniY athonO, "his foal..., and his ass's colt unto the choice vine". The month's corresponding letter is: KUF; Human attribute: LAUGHTER; Body Part: SPLEEN; Tribe: NAFTALI; Constellation: DAGIM (Pisces).
• When Adar arrives, we maximize SIMCHAH •
Monday night-Tuesday 18-19 February / 14 Adar
PURIM KATAN
Purim Katan is the "small" Purim -- a semi-festive day since today would have been Purim had this not been a leap year. Tachanun is not recited in the daily prayers. It is customary to eat a festive meal in celebration of the Purim miracle, but sending portions of food to friends (mishloach manot) and gifts to the poor (matanot la-evionim) are obligatory only on the main Purim in Adar II.
Tuesday night-Wednesday 19-20 February / 15 Adar
SHUSHAN PURIM KATAN
Today would have been celebrated as Purim of the ancient walled cities (mukafin) had this not been a leap year. It is appropriate to focus on themes of Purim.
In the month of Adar Israel's power is so great that even with the breath of their mouths alone all the harsh judgments and bad spirits are sweetened so that they hold no sway at all in the world.
Friday night-Saturday 22-23 February / 18 Adar I
Shabbat Parshat KI TISA
Torah reading: Exodus 30:11-34:35 concluding the account of the design of the Sanctuary vessels and telling the story of the golden calf and God's subsequent granting forgiveness to the Children of Israel. Haftara: I Kings 18.1-39 (Sephardi ritual: I Kings 18.20-39) telling the story of Elijah's triumph over the prophets of Baal.
This Shabbat at the morning Kiddush it is fitting to sing Veshamru (Ex. 31:16-17) with special fervor since these verses appear in today's Torah reading.
---
Subscribe for free emails
To subscribe to AZAMRA's free weekly news and diary emails, click here.