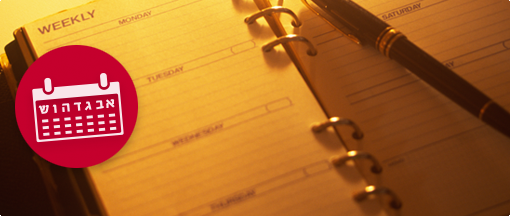 20 Av 5780 / 10 August 2020
Torah Calendar
19-25 Menachem Av 5780
August 9-15, 2020
For this week's study schedule & classes, CLICK HERE
Attributes of the month of Av: Ruling permutation of the letters of HAVAYAH: KEH VAV YOD KEH, contained in the initial Hebrew letters of Haskeis Ushm'a Yisrael Hayom... "...take heed and listen, O Israel, this day..." (Deut 27:9). The month's corresponding letter is: TET; Human attribute: HEARING; Body Part: LEFT KIDNEY ; Tribe: SHIMON; Constellation: ARYEH (Leo, the Lion).
Monday night-Tuesday 10-11 August / 21 Av
Yahrzeit of Rabbi Aharon Rokeach, the Belzer Rebbe (1877-1957).
Tuesday night-Wednesday 11-12 August / 22 Av
Anniversary of the murderous Arab bomb attack on the crowded Number 2 Bus going to the Kotel (Western Wall) in 2003.
Wednesday night-Thursday 12-13 August / 23 Av
Yahrzeit of R. Yaakov Yisrael Kanyevski the "Steipler Rav" (1899-1985).
Friday night-Saturday 14-15 August / 25 Av
Shabbat Parshat RE'EH
Shabbat Mevarchin ELUL
Torah Reading: RE-EH, Deuteronomy 11:26-16:17. Haftara: Isaiah 54:11-55:5.
After the Torah reading in the synagogue, we bless the coming month of Elul. Rosh Chodesh will be on Wednesday night-Thursday and Friday August 19-21. The Molad (junction of the sun and the moon) will be on the night of Thursday 20 August at 01:54 and 16 chalakim a.m..
---
Subscribe for free emails
To subscribe to AZAMRA's free weekly news and diary emails, click here.