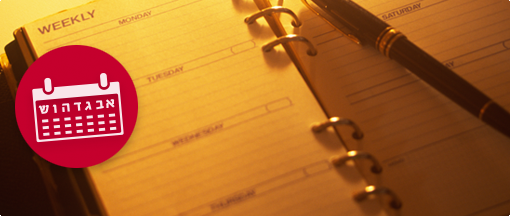 function getHebrewDateObj($_date){ $gregorianMonth = date(n, $_date); $gregorianDay = date(j, $_date); $gregorianYear = date(Y, $_date); return gregoriantojd($gregorianMonth,$gregorianDay,$gregorianYear); } function getHebrewMonthName($_date){ $jdMonth = jdmonthname(getHebrewDateObj($_date),4); if(substr($jdMonth,-2) == "II"){ $jdMonth = substr($jdMonth,0,-2)." II"; } else if(substr($jdMonth,-1) == "I"){ $jdMonth = substr($jdMonth,0,-1)." I"; } return $jdMonth; } function getHebrewDate($_date){ return jdtojewish(getHebrewDateObj($_date)); } function getDatePrintout($dt, $monthName){ list($month, $day, $year) = split('/',$dt); return "$day ".((!empty($monthName)) ? $monthName : $month)." $year"; } $dt = date('U'); $gregorianDate = date('n', $dt)."/".date('j', $dt)."/".date('Y', $dt); $hebrewDate = getHebrewDate($dt); echo getDatePrintout($hebrewDate,getHebrewMonthName($dt))." / ".getDatePrintout($gregorianDate,date('F', $dt)); ?>
Coming classes and study schedule
3-9 Av 5778
15-21 July '18
Coming classes
SHAVUA TOV Live Interactive Hook-up
The next SHAVUA TOV Hookup will be on Sunday July 15: "The House on the Mountain: Why the World needs the Temple". You may submit questions in advance by email or during the class through instant messaging. Click here to watch and chat live.
AVRAHAM'S TENT Internet Kolel
Classes this week will be on Monday July 16 and Thursday July 19, when we will continue our study of the Hebrew text of the prophet Zechariah and of Rabbi Nachman's teaching on "Prayer, Sword of Mashiach" (Likutey Moharan I:2). Watch live here. View archived videos of earlier classes on Azamra's YouTube channel or listen to audio MP3's HERE.
CLASS TIMES:
Israel: 16:00-17:30; Lagos, Nigeria: 14:00-15:30; Britain: 14:00-15:30; N. America EST: 09:00-10:30; CST: 08:00-09:30; PST: 06:00-07:30; Mumbai, India: 18:30-20:00; Sydney, Australia: 01:00-02:30; Auckland, New Zealand: 03:00-04:30.
Weekly Torah Reading
Shabbat July 21: DEVARIM Deuteronomy 1:1-3:22
Torah for the Nations commentary: Do not corrupt the land!

SUBSCRIBE TO WEEKLY TORAH COMMENTARY EMAIL
WEEKLY PORTIONS COMMENTARY ARCHIVE
Daily Bible Study
Sun July 15 Ezekiel 3-4
Mon July 16 Ezekiel 5-6
Tues July 17 Ezekiel 7-8
Wed July 18 Ezekiel 9-10
Thur July 19 Lamentations 1-2
Fri July 20 Lamentations 3-5

SUBSCRIBE TO DAILY BIBLE COMMENTARY EMAILS
BIBLE COMMENTARY ARCHIVE
READ OF THE WEEK
TORAH FOUNDATIONS
Daily study of Rambam's Mishneh Torah Law Code
By courtesy of Chabad.org
• 1 chapter a day
• 3 chapters a day
• Corresponding commandments from Sefer HaMitzvot
The entire Mishneh Torah is available in English online here.
Two must-read basic texts
By the saintly kabbalah genius, Rabbi Moshe Chaim Luzzatto
("RaMChaL", 1707-47):
The Way of God The classic exposition of the fundamentals of Torah belief
Path of the Just The classic practical guide to the Torah path of self-perfection