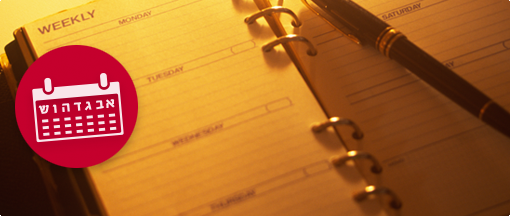 8 Tishri 5784 / 23 September 2023
Coming classes and study schedule
24 Elul 5783-1 Marcheshvan 5784
September 10-October 16, 2023
COMING CLASS
The next live Zoom class with Rabbi Avraham Greenbaum is scheduled for Sunday September 10 at 17:00 Jerusalem time. The topic will be: "Rosh Hashanah".
To receive information and links to participate in Rabbi Avraham Greenbaum's live Zoom classes, please subscribe to Azamra's Live Classes email list. Video recordings are available later on Azamra website and our YouTube channel.
THE WEEKLY SHABBAT TORAH READINGS
The weekly Torah readings in Israel and the Diaspora communities will be out of sync until Shabbat July 1.
Shabbat September 23
Ha'azinu Deuteronomy 32: 1-52
Torah for the Nations commentary: Moses' Last Song
Shabbat September 30
First day of Sukkot
Shabbat October 7: Shemini Atzeret & Simchat Torah
Vezot HaBrachah Deuteronomy 33:1-34:12
Torah for the Nations commentary: Moses lives!
DAILY BIBLE STUDY
Know-Your-Bible 17th Annual Study Cycle: