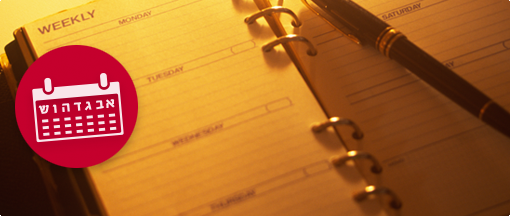 9 Sivan 5780 / 1 June 2020
Coming classes and study schedule
1-14 Sivan 5780
May 24-June 6, 2020
CLASSES
Rabbi Avraham ben Yaakov is now offering free live interactive video classes via the Zoom platform. If you are already registered, you will be sent email notifications prior to each class with details how to take part. To register, please sign up here.
Sundays at 16:00 Israel time (GMT+3)
TORAH HOUR
The Weekly Portion • TaNaKh Highlights • Halachah • Chassidut • Zohar
Concise, informative, inspirational segments followed by Zoom questions & answers.
The Zoom meeting room will open at 15:45 Israel time (GMT+3). The class will begin at 16:00 with time afterwards for questions and answers via Zoom. Where possible a video of the class will be posted afterwards on YouTube.
Classes are scheduled for Sunday May 24 and Sunday May 31
View archived videos of earlier classes on Azamra's YouTube channel or listen to audio MP3's HERE
THE WEEKLY SHABBAT TORAH READINGS
From Shabbat May 30 until Shabbat July 4 the weekly Torah readings in Israel and the Diaspora communities will be out of sync.
This is because the first day of the Festival of Shavuot this year occurs on Friday May 29. Thus in the Diaspora the Second Day of the Festival of Shavuot will occur on Shabbat May 30, and the special festival reading is read in the Synagogue but not the regular weekly Torah portion.
However, in Israel, where the festival is observed for one day only on Friday May 29, the Torah reading on Shabbat May 30 continues the regular weekly cycle with the portion of Naso. However in the Diaspora this portion will not be read until Shabbat June 6, when communities in Israel will be a week ahead with the portion of, B'ha'alotcha
The weekly Torah readings in Israel and the Diaspora communities will remain out of sync until Shabbat July 4, when the portion of Balak will be read in Israel while in the Diaspora communities will read the double portion of Chukat and Balak.
Shabbat May 30:
Diaspora: Today is observed as the Second Day of the Festival of Shavuot. The special festival Torah readings are Deuteronomy 15:19-16:17 and Numbers 28:26-31, and the Haftara is Habbakuk 2:20-3:19.
Israel: Today is Issru Chag, and the Torah reading continues with the regular weekly cycle: Naso Numbers 4:21-7:89.
Torah for the Nations commentary: Owning Up
Shabbat June 6:
Diaspora: The weekly Torah reading continues with the regular weekly cycle: Naso Numbers 4:21-7:89. Torah for the Nations commentary: Owning Up.
Israel: Beha'alotcha Numbers 8:1-12:16
Torah for the Nations commentary: Unity within Diversity
• SUBSCRIBE TO WEEKLY TORAH COMMENTARY EMAILS
• WEEKLY PORTIONS COMMENTARY ARCHIVE
DAILY BIBLE STUDY
Know-Your-Bible 14th Annual Study Cycle:
Schedule May 24-June 6
Sun May 24 I Chronicles 19-20
Mon May 25 I Chronicles 21-22
Tues May 26 I Chronicles 23-24
Wed May 27 I Ruth 1-2
Thur May 28 I Ruth 3-4
Fri May 29 Festival of Shavuot
Sun May 31 I Chronicles 25-26
Mon June 1 I Chronicles 27-28
Tues June 2 I Chronicles 29-II Chronicles 1
Wed June 3 II Chronicles 2-3
Thur June 4 II Chronicles 4-5
Fri June 5 II Chronicles 6-7