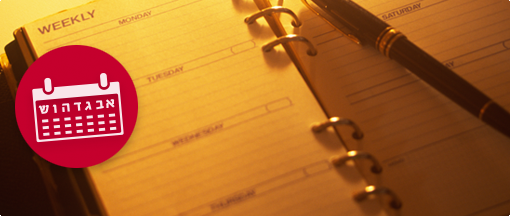 19 Tishri 5782 / 25 September 2021
Coming classes and study schedule
6-26 Tishri 5782
September 12-October 2, 2021
NEXT CLASS
The next live Zoom meeting with Rabbi Greenbaum is scheduled for Sunday October 10 at 16:00 hours Israel time. The topic will be: Lessons of Noah & Abraham for Our Times . To receive the links to participate, please subscribe to Azamra's Live Classes email list.
WEEKLY TORAH READINGS
DAILY BIBLE STUDY
Know-Your-Bible 15th Annual Study Cycle:
The Fifteenth KNOW YOUR BIBLE Annual Study Cycle concludes on Sunday September 26 with our completion of the book of Isaiah. The Sixteenth Annual Study Cycle begins on Thursday September 30 with the Book of Joshua Chapters 1-2.
Schedule September 12-17
Sun September 12 Isaiah 47-48
Mon September 13 Isaiah 49-50
Tues September 14 Isaiah 51-52
Wed September 15 Isaiah 53-54
Thur September 16 Yom Kippur
Fri September 17 Isaiah 55-56
On the Intermediate Shabbat of the Festival of Succot, this year on September 25, it is customary to read the scroll of Kohelet (Ecclesiastes) prior to the Synagogue Torah reading.
Commentary on Kohelet
Chapters 1-2 • 3-4 • 5-6 • 7-8 • 9-10 • 11-12
Subscribers to the Know Your Bible commentary emails will receive these commentaries in their mailbox prior to the Festival of Succot.
Schedule September 19-24
Sun September 19 Isaiah 57-58
Monday September 20 Isaiah 59-60
Tues September 21 First day of Succot
Wed September 22 Second day of Succot
Thur September 23 Isaiah 61-62
Fri September 24 Isaiah 63-64
Schedule September 26-October 1
Sun September 26 Isaiah 65-66
Monday September 27 Hoshana Rabba
Tues September 28 Shemini Atzeret
Wed September 29 Simchat Torah
Thur September 30 Joshua 1 & 2
Fri October 1 Joshua 3-4
• SUBSCRIBE TO DAILY BIBLE COMMENTARY EMAILS
• BIBLE COMMENTARY ARCHIVE