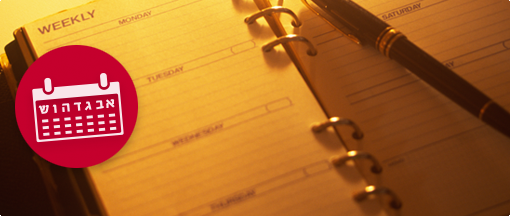 13 Nisan 5779 / 18 April 2019
Coming classes and study schedule
9-30 Nissan 5779
April 14-May 5 '19
NEXT CLASS: Sunday May 5:
A Time for Healing

Just as the Children of Israel after leaving Egypt were healed by G-d before receiving the Torah, so today the season of the Omer Count and the month of Iyar are most propitious for spiritual and physical healing.
Watch live on AZAMRA Website here or on YouTube here. View archived videos of earlier classes on Azamra's YouTube channel or listen to audio MP3's HERE.
CLASS TIMES:
Israel: 16:00-17:30; Lagos, Nigeria: 14:00-15:30; Britain: 14:00-15:30; N. America: EST 09:00-10:30 a.m.; CST 08:00-9:30; PST 07:00-07:30; Mumbai, India: 18:30-20:00; Sydney, Australia: 12:00-01:30; Auckland, New Zealand: 02:00-03:30.
WEEKLY TORAH READINGS
Shabbat April 20: Today is the first day of the Festival of Pesach. During Pesach the regular cycle of weekly Torah readings is suspended until after the festival. For the Pesach festival readings, see the Torah Calendar.
Shabbat April 27:
On Shabbat April 27 the Torah reading in Israel will be ACHAREI MOT (Leviticus 16:1-18:30). But since in the Diaspora this Shabbat is observed as the eighth day of Pesach, that portion will be read in all locations outside of Israel on Shabbat May 4.
DAILY BIBLE STUDY
Know-Your-Bible 13th Annual Study Cycle:
Schedule April 14-19
Sunday April 14 Job 37-38
Monday April 15 Job 39-40
Tuesday April 16 Job 41-42
Wednesday April 17 Song of Songs 1-2
Thursday April 18 Search for Chametz
Friday April 19 Eve of Pesach
Schedule April 21-26
Sunday April 21 Second day Pesach
Monday April 22 Song of Songs 3-4
Tuesday April 23 Song of Songs 5-6
Wednesday April 24 Song of Songs 7-8
Thursday April 25 Time for Review
Friday April 26 Seventh day of Pesach
Schedule April 28-May 3
Sunday April 28 Issru Chag Diaspora
Monday April 29 I Chronicles 1-2
Tuesday April 30 I Chronicles 3-4
Wednesday May 1 I Chronicles 5-6
Thursday May 2 I Chronicles 7-8
Friday May 3 I Chronicles 9-10
• SUBSCRIBE TO DAILY BIBLE COMMENTARY EMAILS
• BIBLE COMMENTARY ARCHIVE
READINGS FOR THE PESACH SEASON:
TORAH FOUNDATIONS
Daily study of Rambam's Mishneh Torah Law Code
Two must-read basic texts