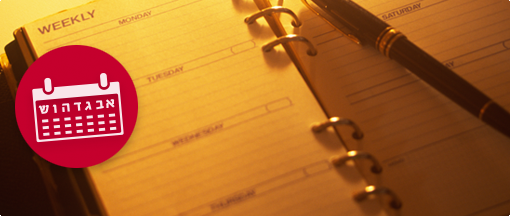 9 Tishri 5781 / 27 September 2020
Coming classes and study schedule
28 Elul 5780-30 Tishri 5781
September 17-October 18, 2020
CLASSES
Owing to Rabbi Avraham Greenbaum's recent hospitalization, he is currently unable to give live classes. G-d willing he hopes to be able to resume his classes after the festivals.
WEEKLY TORAH READINGS
DAILY BIBLE STUDY
Know-Your-Bible 14th Annual Study Cycle:
The current Know-Your-Bible annual study cycle concludes on Sunday October 11, and the new cycle begins on Monday October 12 with the study of Joshua chapters 1 & 2.

September 20-25
Sun September 20 Rosh HaShanah II
Mon September 21 Isaiah 47-48
Tuesday September 22 Isaiah 49-50
Wed September 23 Isaiah 51-52
Thur September 24 Isaiah 53-54
Fri September 25 Isaiah 55-56
September 26-October 1
Sun September 27 Isaiah 57-58
Mon September 28 Yom Kippur
Tues September 29 Isaiah 59- 60
Wed September 30 Isaiah 61-62
Thur October 1 Isaiah 63-64
Fri October 2 Isaiah 65-66
October 4-9
Sun October 4 Isaiah Second day of Succot
Mon October 5 Kohelet 1-2
Tues October 6 Kohelet 3-4
Wed October 7 Kohelet 5-6
Thur October 8 Kohelet 7-8
Fri October 9 Kohelet 9-10
October 11-16
Sun October 11 (Simchat Torah Diaspora) Kohelet 11-12
Mon October 12 Joshua 1 - 2
Tues October 13 Joshua 3-4
Wed October 14 Joshua 5-6
Thur October 15 Joshua 7-8
Fri October 16 Joshua 9-1